I thought I'd be able to post actual pictures of what I am doing, step-by-step, but once again my youngest has found a way to break yet an other digital camera... this time he was doing video shots of him jumping off the bed; the part of the camera that extends when it focuses somehow got twisted about. Seems like it was fully extended, and then got bent (tried fixing it, no go).
SO anyway, for the first part of this Proof of Concept, I had found an old Monogram Focke-Wulf FW 190 1/48 scale model at a thrift store for 50 cents... it was still in its original wrapping! Took it home, did some research... found out this particular model hasn't been made since 1973, originally made 1965. In fact, the 1973 version is the same as the original, just different packaging. I have the one packaged in 1973 (see image below), although the fuselage is stamped 1965.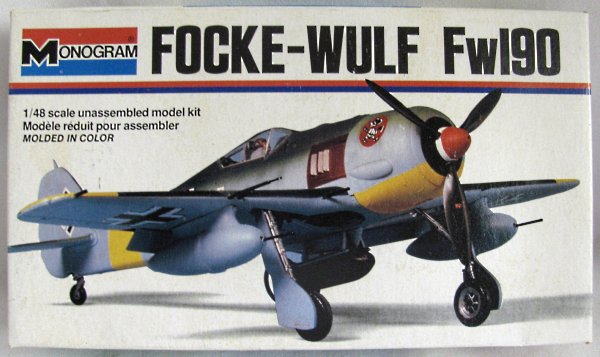 Did some more research... I figured if I had a complete model from 40 years ago, it might be worth something. WRONG. Going price on E-Bay is well within the $6 - $7 range. Cool, I can assemble this and not worry about a thing.
here is where a freaking camera would come in handy
Due to the age of the model, there is some... warpage. The wing assemble looks a wee bit twisted, the right (starboard!) fuselage bends, the antenna on the tail fin is as droopy as a wet noodle. This is going to take some time. BUT, all the pieces are there, and I only paid 50 cents, so why complain? Now I just had to figure out what to do with it.
My normal wiring in lights wouldn't work, too small of a scale. Well, not really, but I wanted to keep costs low. After a while, it dawned on me: lets go for something I haven't done before, and put in a motor to spin the propellers! Luckily, a had a small motor at home that
should
fit in without any complications: I have a dental tooth polisher that I purchased from a dollar store years ago, in an attempt to make a lock-pick from following an MIT locksmithing guide (wonder if it's still on the internet?). The polisher is below; keep in mind, and to keep scale, there are two AA batteries within the handle.
The motor does fit (with work). Don't know how it will affect the cockpit, though. Battery placement is going to be a headache: there isn't any room within the fuselage. I could strap the to the bottom of the wings (like bombs), but they wouldn't be to scale, and would be difficult to replace. Perhaps watch batteries within the wheel wells, with the wells closed (flight mode)? That might work... but then again, it might not.
But anyway, there you have it: my first Proof of Concept. I won't do anything until I get a camera so I can show the steps and stuff. Hoping to do a damn fine job with this, trying to go for accuracy: have already downloaded a bunch of photographs, have a book coming in from the library, blah blah blah.
So... until next time...
(oh, for the record, 1/48 scale figures matches perfectly with 40K models... except that they aren't as exaggerated. 1/48 stuff looks puny next to them.)