Star Control II: The Ur-Quan Masters
Star Control. Oh, how can words describe it? I'm sure the wikipedia can explain it, but what are you really getting out of it? Here, allow me to try...
It's a game involving diplomatic relations, planet harvesting, mineral gathering, biological capturing, space travel, space combat, problem solving, and artifact gathering. Oh, and universe saving. Without revealing too much, you captain an alien vessel in an attempt to amass an armada of space craft from various alien civilizations (piloted by those same aliens) to end the total enslavement of the universe; you have to mine for resources in order to trade them for monetary units used to upgrade your ship, travel among the stars and discover new alien civilizations and hope you can sweet talk them into joining your cause.
I hate the term "epic". Epic, for the most part
isn't
epic. And some of you reading this may hate that term as much as I do, and as such may not want to read what I am going to type next.
Spoiler:
In its scope, in its story, in all it tries to do.
Spoiler:
Keep in mind that this game is what, 20 years old? Honestly, I am not the only one to think so, as there is an ever increasing fan base for this game. Well, maybe not Star Control II, exactly. Introducing...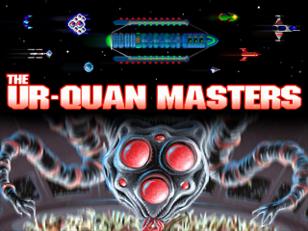 The Ur-Quan Masters is an open source version of Star Control II, complete and exacting in every detail, with some minor adjustments. These adjustments are: different music (if you so wish) and voice overs for all the character encounters (also, only if you wish). And being open source, it is free for download. I've downloaded it, installed it on a thumb drive, and have been playing it off and on
while at work
*cough* while not at home. You can do the same by follow this link
HERE
.
Fans of the original may recall having to use star coordinates in order to play the game; for those not in the know, this was an anti-theft / copy device used by the game. Let me tell you that you do not have to do this. However, you may want to find a copy of the map just because it is essential to the game. Can't go about gallivanting across the cosmos blind, can you? Here then are the
maps
; there are two sets of two: printer friendly and original black background, broken down into two further versions: spoiler free and with alien locations. These maps are not as good as the original... these fit a standard sheet of paper, but you really can't plot anything out.
...
I know I really didn't say much about the game. I leave that up to you to go check things out. Just keep in mind that this game has made a lasting impression on thousands upon thousands of gamers, and that should tell you something. The fact that it is free should be enough incentive to at least try it out.
here's a little something extra, for those who like trailers... the intro.
My next free open source downloadable? Sim City

Oh, just found out there's a port for SC2 for the PSP. Happy happy!