The Tau is an alien race within the gaming system of Warhammer 40,000 (or just 40K), who have gone from nomadic tribesmen to the development of anti-gravity, invisibility cloaks, and advanced weapons technology within a 5000 year time frame. The Tau welcome all other races into their fold, believing in self sacrifice for the Greater Good; as such, they can be viewed as being "the good guys" in the 40K universe.
When the Tau first appeared in the gaming world, they had as a Troop Choice the human auxillary, or the
Gue'vesa
in their native language (translates into 'human helper'); these were humans who joined the Tau either when the Tau took control of their planets, or had freely joined. All of the humans were originally of the Imperial Guard, a different 40K army.
However, over the years, the human auxillary was removed from the Tau rulebook.
Because of this, for a model conversion, I wanted to build a memorial statue dedicated to the gue'vesa. I wish I had pre-buils pictures, but I wasn't thinking at the time. What I started out with was...
1. A WWII German Cavalry Officer with horse, in 1/35 scale
2. The head of a Colonial Viper (Battlestar Galactica) pilot, 1/35 scale
3. The arms from an Ork Choppa Boy (at least, I think it was a Choppa Boy)
4. Various bitz (left over pieces) from various Tau models
5. A Dollar Store wall display
What follows then are a series of photgraphs of where the model stands right no. I will be needing to touch up some parts / areas with putty, file down some excess glue and joints, and figure out a cheap way to make water... the finished statue will be standing within a gold reflective pool. Oh, and I have to make a flag, can't forget that. You'll see what I mean when you look at the pictures.
Hrm... gotta figure out picture uploads. Be back in a bit.
Okay here, let's see if this works (take 3)...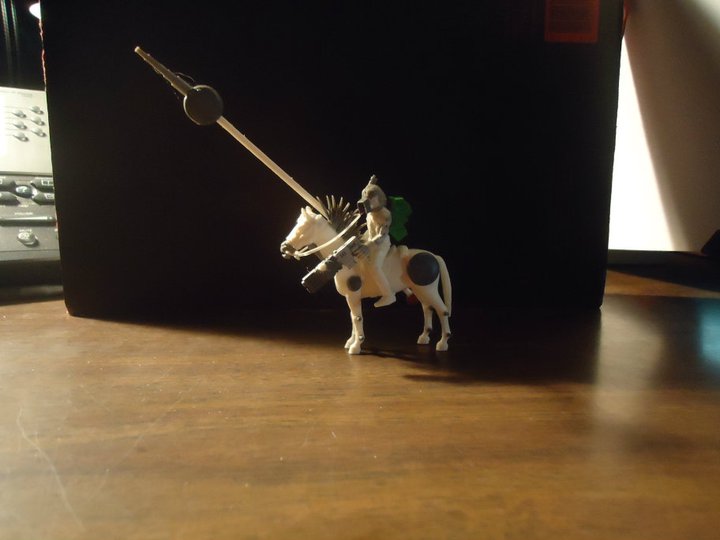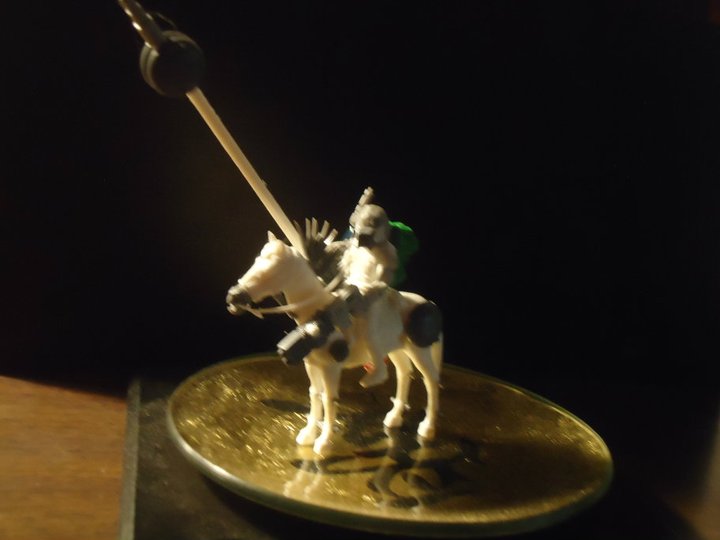 The picture quality may be off a bit... I took these pictures late last night / early morning, and hell... they looked alright then.