I have a problem.  Just as with my art projects, I have slowly amassed a collection of models or modeling projects that are in various stages of completion (my Buzz Space Marine, 40K Dark Vengeance box set, Tau Broadside and Riptide, Dollar Store Stryker, M1128 Stryker, and so on), not to mention kits that I haven't even opened or started yet (Dollar Store mobile howitzer, the FW-190, figures for my
Risk
table).  Oh, let's not forget my chain mail project or all the steampunk stuff I have lying around.  *sigh*  So, without further ado, allow me to introduce the latest project that will probably sit and collect dust: Revel's '56 Chevy Del Ray.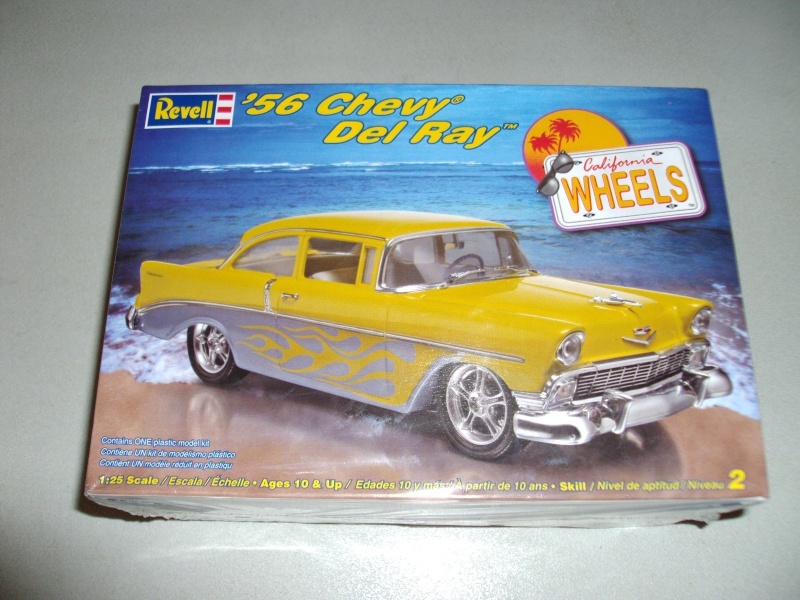 I hate car models, I really do.  Saw this at Goodwill a couple days ago, still wrapped in the original sealed plastic (the photograph above is not of the kit I purchased, but it is of the same model), with an asking price of $1.99.  There I was with a dilemma: with such a cheap price, do I dare buy it, knowing I have other things to work on?  What on earth would I do with a car model anyway?  I can't convert it for my armies.  "Ahh," I thought, "but I can convert it."
The gears in my head started turning, and before I knew it, I was walking out of the store with the kit (after paying for it, of course).
The conversion I have in mind?  I want to make it look like it has been in a wreck, as if it had driven into a tree.  I want to get a skeleton that is of the same scale (with clothing, either bought or homemade), sitting in the driver seat, draped over the steering wheel.  Smash up the front, somehow flatten the tires, weatherize the crap out of it, age it.  I want an abandoned long forgotten wreck of a car.
But how would I be doing this?  The weatherization and painting stuff won't be a problem, but the damage?  This isn't barrage missile damage or pulse rifle sears we're talking about here!  
After a day or two of searching online (minus time for Kongregate, Facebook, and my paranormal stuff), I found what I've been looking for.  
This first video is a grand demonstration on how to wreck a model car.
Here we have an excellent video on creating rust and chipping effects.
Trying to find a simple video that shows how to do a cool technique known as salting.