Just a simple attempt at an online RPG, with an emphasis on role playing.  This will be story driven, with description and narration filling in the roles of dice.  Doesn't matter if you are a good writer or not, it is the attempt that counts!  I should also point out that you can join in at any time; I've got plans to incorporate new players throughout the storyline. All I ask is that you drop me a PM or an email, and I shall write you in, no problem.
And, in an effort to give this more "life", to avoid this being plain and ordinary, I'll be adding things here and there.  You'll know what I mean when it happens.
Now then, without further ado, may I present...
WHAT WILL BE
Now...
It began, all those years ago, innocently, within the days of youth, their folly and overwhelming sense of adventure and desire.  How the actions of a group, of one person, can ultimately change what-should-have-been.  Oh, how the world has changed since then... and how the people would react should they ever learn the truth.

But I suppose
you
already know the truth, don't you?  Why else would you bring me here?  Why else would you subjugate me to... to this?  Or better, what happens to me if I reveal something you don't know?

Do I condemn myself, or do you seek to place honors?

It, quite frankly, matters not.  You will continue to believe what you want, as I am certain that my die has already been cast.  Very well.  Allow me then to take you to the beginning.
Then...
**
click on the following link to open a new tab so that the video plays in the background (leave speakers on, but at a lower volume).  Return to this tab when advertising is complete, if there is any. CLICK THIS LINK**
The autumn wind brushed over the tops of the color changing trees, bringing with it a sense of animation as the branches waved, letting go of some yellow, some red leaves.  A haze began to form about the moon, the stars clear and bright.
It was going to be a cold night.
Luckily, camp had been set up an hour prior to sunset; already, the smell of roasted rabbit drifted along the breeze, the sounds of laughter and stories being exchanged following suit.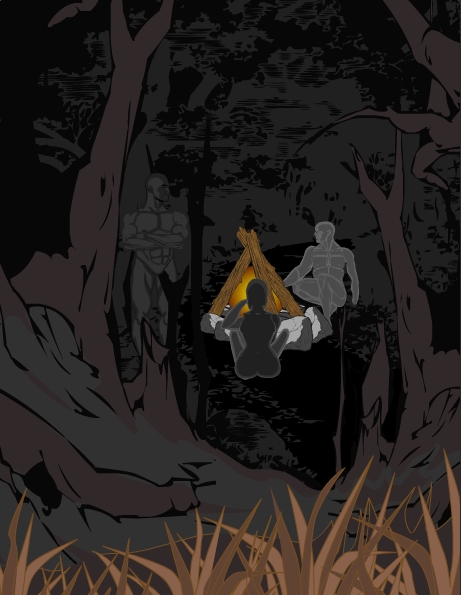 A flash of light appeared to the left.
"My lord requires your presence," a woman spoke from the flash.  "I would humbly suggest that you do not disappoint in this honor."
...
Before you stands a woman clad in attire not seen in these parts, adorned in what appeared to be gold.  To her left, a portal lay open, surrounded by a rolling mist.  It is unknown if your companions at camp have seen the flash or have heard her speak.  She looks at you patiently.