Yes, I may be late coming onto this game (in regards to the other people on this forum), but in looking things over on the
wiki
, I'm not the only one.  So...
What is Ingress?  I haven't the faintest idea.  Well, I know, but when you first install and open the app, you're immediately forced to make a choice without given a reason.  Why should I join the Resistance?  Why should I side with the Enlightened?  I wish there was more of a background story for this, other than the two dimensional "save humanity / evolve humanity" plot.
But, in trying to find more information about the phone app game, I am finding that it could be considered a multimedia gaming experience.  I'm not talking about the forums or the wikis, but I'm finding a lot of videos and other side projects, which I'll have to check out when time permits.  I'll post items of interest as I find them.
Short story shorter: CERN experiments opened energy rifts throughout the world, and these portals have exhibited influence over the minds of people.  Resist... or succumb.
...
Myself, I sided with the Resistance.  I reasoned that, if this game is to be played as a "real world" event, then I would treat it as such.  If portals were to suddenly start opening up around the world, I wouldn't blindly accept things, I would resist and fight.  And as my usual online names were already taken, I went to my third alias: Umbra Dominus, or in this case, umbradominus (no spaces or special characters allowed in naming).
While walking about the Crivitz area, I found that the majority of portals were open.  Two or three are owned, with the resonators at levels 7 and 8 (more on that later).  I currently own 18 portals, linked 17, and created 5 fields.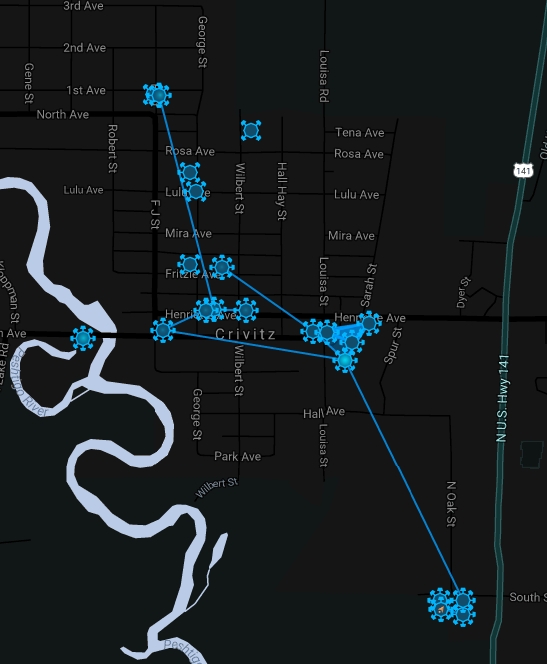 This is Crivitz, and for the most part, this is all me.  The only ones I don't own are the Playscape, Riverside Bar & Grill, and...  the Post Office.  As you can see by the links, I didn't know what I was doing when I was linking stuff.  Without having read too much on the wiki, from learning as I go, here's what I've learned.
To own a portal, you must deploy a resonator; it takes eight resonators to completely occupy the portal.  Portal strength? is determined by the resonator levels.  Tap a resonator, select upgrade, and you can then install a higher level resonator, if you have it in your inventory.  With eight resonators, you can "link" portals.  Higher level portals will give you more objects, or objects of higher value.
Linking portals gives you experience points.  You need to link portals to create fields.  You can only link a portal if you have a portal key, which is obtained by hacking the portal.  If you link three portals together, you generate a field, which does something, but I cannot say what (yet).  I'll need to go on the wiki to find out.  Depending on your faction, a field will show up either as blue or green.
Recharging.  I haven't experienced or read this yet, but I am making an assumption based on my observations: you need to recharge the resonators in order to maintain the portal.  I am guessing, but should a resonator's energy drop to zero, the link and field will fall.
I've got to do some actual work right now, but I'll come back later.