Last week or so, the admin of this site texted me about how he was going to participate in Inktober, and that Vader would be doing it as well. Not knowing what Inktober was, I looked it up.
Turns out it is a challenge put forth by an artist, to drive himself to drawing one picture a day, every day, during the month of October, with the only stipulation being that they would be ink drawings (going over pencil images qualifies). There is no competition, just a self-motivation and a chance to improve yourself. There's a whole hashtag thing, and posting them online, blah blah blah.
The official website can be found by following
this link
. Likewise, they can also be found on Facebook...
click here
. Then there's twitter and so on and so forth.
Me, I figure I'll just post the pictures here. Would do it on Facebook... might post there as well, share stuff with the extended and distant friends/family... but I'll definitely be posting here; maintains a better record. So okay then, official rules (careful, there are four of them).
1. Make a drawing in ink (pencil drawing gone over with ink is acceptable)
2. Post it online
3. Hashtag it with
#inktober
and
#inktober2017
4. Repeat every day of October
Since this is meant to better your abilities, I thought I could just get away with doing what I normally do, but where's the fun or challenge in that? So I turned to the National Day Calendar with the intentions of drawing "the day". You know, either draw something involving what that day is about, or incorporating it into the drawing. But then I saw the "Official 2017 Inktober Prompt List", and with as generic or general as the list is, there's a lot of room for different views and interpretations.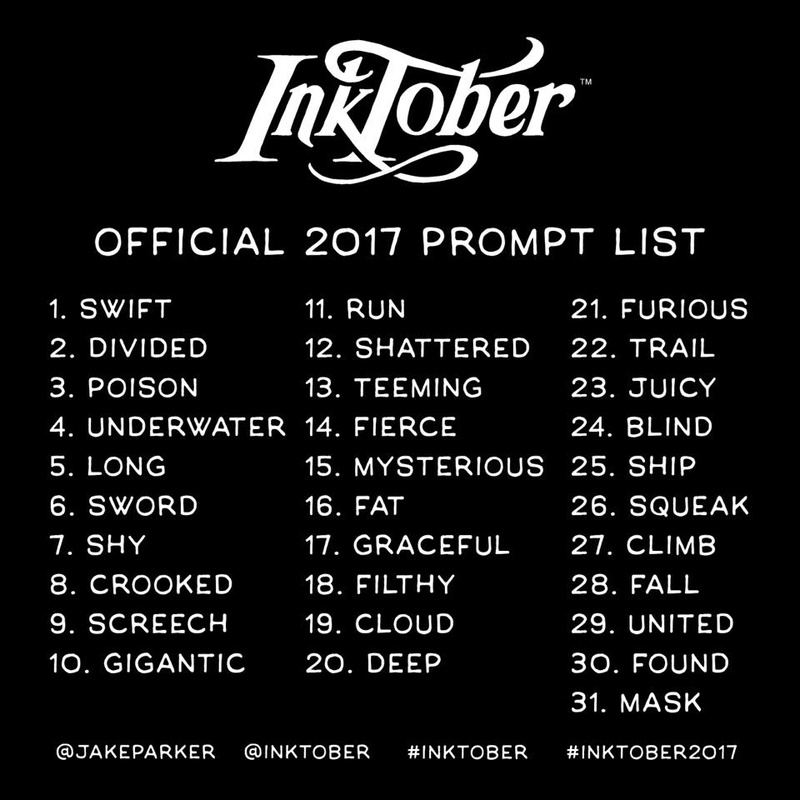 For me, when it comes to drawing, I like using felt pens, Sharpie markers, or the Papermate Liquid Expresso (but these do tend to smear though). However, I'm going to try something new: the Pentel Color Brush Sepia Pen. Just want to see if these are a good fit for me or not. For paper, I generally always used what was on hand, from copier paper to notebook to those artist sketchbooks. This time, I am going to try a higher quality, a 25% cotton paper, 24lb, wove finish. As these are used for certificates, I'm hoping that they won't have a bleed through or that the paper warps where a lot of ink is applied. Should that fail, I have access to 28lb paper.
By all means, should any other member of this forum wish to participate, feel free to share your in this thread!